Intermediate and Advanced Surf Lessons and Guiding at Uluwatu, Bali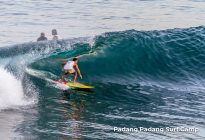 There were waves of varying sizes and shapes on offer this morning as our intermediate and advanced surfing groups headed the short distance to Uluwatu for their first surf sessions of the day.
The swell was a little slower coming through than it had been for the previous evening's sunset session but conditions were clean and glassy and waves ranged from chest to overhead on the larger sets.
From our intermediates making some of their first turns down the line to our expert instructors like Blacky boosting enormous airs, everyone had a great morning of waves.