Instructor Spotlight: Sandi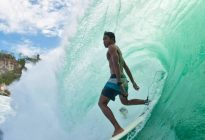 Here in Bali we're still not able to produce our daily surf report but, with the Covid situation improving around the world, we're optimistic we'll be able to welcome guests back here again in June or July.
The focus of today's spotlight post is Sandi.
Growing up in the beach town of Cimaja, West Java, Sandi set his heart on emulating his favourite surfer Dane Reynolds and developed a repertoir of skills and manouvers to match.
Previously sponsored by world-renowned brand Quiksilver, his adventures as a professional athlete gave him experience travelling and competing abroad on several occasions in countries including Malaysia, Taiwan, New Zealand and France.
With surfing as his love, Sandi decided that working in a surf camp would be the perfect place to share this with other people and has been working at PPSC doing so for over six yeears.
Sandi is one of the surf camp's best instructors both in terms of his own skills, and with his excellent English and communication skills, can help take your surfing to the next level too.