Padang Padang Sundown Session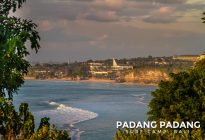 With Bali's official reopening scheduled for July 9th and international routes starting to open up across the world, it's time to start planning your next trip here!
We took the camera along with us this evening to one of our favourite local spots where the only thing better than the cocktails is the view.
With a very solid swell hitting Bali at the moment, the world-famous Padang Padang left-hander was throwing out some sizeable barrels which were being skillfully navigated by a crowd of around ten.
In the opposite direction, some chunky sets were rolling down the Impossibles reef in the 'well overhead' range with surfers enjoying some leg-achingly-long rides.
We're too busy enjoying the uncrowded world-class waves for now so our regular daily surf report remains on hold but keep your eyes peeled for more regular updates soon.