Intermediate and Advanced Surf Guiding at Uluwatu, Bali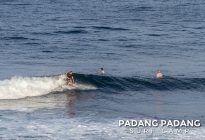 The crew were up early for the dawn session at Uluwatu this morning where conditions were glassy and empty.
As we're at the end of the current swell, wave height and power continues to fade. Uluwatu is still an Indonesian reef break after all, so there were a few mini barrels to be found if you knew which ones to pick.
We're expecting a bump in swell height later this afternoon so it's looking like the amazing conditions that we've been enjoying the past few weeks will continue into this week too.
Stay with us for two weeks or more and we'll pay for your visa so check out our limited Christmas availability or get in contact for more information.