Advanced Surf Guiding at Pandawa, Bali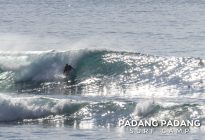 With bumpy conditions and the last of the remaining swell not offering much at our local breaks, we ventured to Pandawa on the the south coast of the Bukit Peninsular this morning.
Waves were quite clean and breaking with some power between head-high and a little overhead so it was certainly a session for the advanced surfers.
After a rainy morning with variable winds, the sun came out and the waves cleaned up nicely for the second session at Uluwatu.
Stay with us for two weeks or more and we'll pay for your visa so check out our limited Christmas availability or get in contact for more information.