Intermediate and Advanced Surf Guiding at Sri Lanka, Bali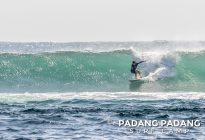 Very good swell size for this time of year. Onshore on the west coast so we cruised over to the east coast today to one of Bali's premier right-hand surf spots — Sri Lanka — which is located in front of Club Med in Nusa Dua.
Very crowded for a pandemic, but plenty of good waves coming through and everybody got their share.
We're all very happy that the sun is out and and there's a good swell!