Advanced surf guiding and intermediate surf lessons at Uluwatu, Bali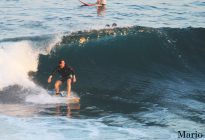 This morning both our advanced and intermediate groups headed to Uluwatu at dawn. Every surfer who comes to Bali keen to surf at Uluwatu, one of the most famous left-hand waves in the world. Our surfers have this privilege to enjoy world-class waves all year round. Conditions today are excellent, clean with light offshore wind. Swell size is dropped a little bit but some sets can still be solid.  Waves are shoulder to head high and overhead high on sets.
Beginners in the mean time enjoyed their surf lessons at Baby Padang this morning. Mellow conditions and a lot of fun waves waist high to chest high.